Back
Baggage Info
Carry-On Baggage Policies At no additional charge, each ticketed passenger is allowed to carry the following in the cabin: One (1) carry-on bag not exceeding a maximum linear dimension of 45" and not exceeding 35 lbs in weight. The bag must fit in the overhead bin* or under the passenger …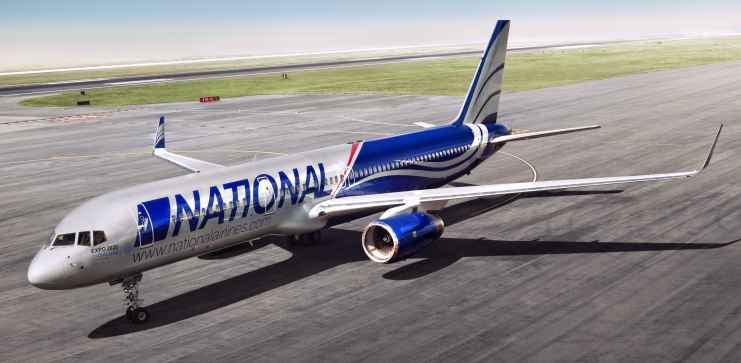 Carry-On Baggage Policies
At no additional charge, each ticketed passenger is allowed to carry the following in the cabin:
One (1) carry-on bag not exceeding a maximum linear dimension of 45" and not exceeding 35 lbs in weight. The bag must fit in the overhead bin* or under the passenger seat. This may include but is not limited to appropriate suitcases, computer bags, backpacks, briefcases, tote or duffel bags.
Each passenger may also carry:
One (1) personal item such as a purse, diaper bag, small computer bag or other items for use during flight. This item must be stowed under the seat in front of them.
*Please note: Overhead storage in each cabin is limited. Once overhead capacity has been reached, remaining carry-on bags will be tagged and stowed in the cargo bin as checked baggage free of charge. These bags will be retrieved at baggage claim in final destination.
Passengers can transport liquids, gels, lotions or similar items through the security checkpoint if the items are less than 3.4oz (100 ml) individually and they fit into a transparent 1 quart (1 liter) plastic bag. The contents must fit completely in the plastic bag and will be subjected to x-ray inspection separate from the passenger's carry-on bag.
Passengers may also have the following items, but must declare them to TSA at the screening checkpoint if not contained in a clear or transparent resealable 1 quart (1 liter) plastic bag and/or are over 3.4oz (100ml).
Baby formula/milk (to include breast milk), juice, and baby food in containers if a baby or small child is traveling
Medications (liquid, gel, and aerosol)
Liquids (to include juice) or gels for diabetic or other medical needs
Checked Baggage Policies and Prices
Baggage Fees are non-refundable and non-transferable.
| Baggage | Fee |
| --- | --- |
| 1st Bag FREE for each passenger ticket purchased | FREE |
| 2nd Bag | $30usd |
| 3rd and 4th Bag each | $75usd |
| Overweight Bags (over 50 lbs., under 100 lbs) | $75usd |
| Oversized Bags (over 62 linear inches) | $75usd |
| Sporting Equipment (Bicycle, Golf Bag, Surf Board, Skis, Fishing or Diving Equipment) | $75usd |
| Car Seats and Strollers | No Charge |
Items considered to be hazardous materials are not permitted for carriage on National Airlines flights. An incomplete list of prohibited items is below.
*Important! You must declare any hazardous materials or dangerous goods that you are transporting to the airline. Failure to declare violates US Federal Law and is subject to financial penalty and imprisonment.
Limited quantities of some hazardous materials are permitted for carriage by passengers in carry-on or checked baggage or on their person.
Item
Example
Max Amount
Carry On
Checked
On Person
Medical and Toiletries containing alcohol
Hair Spray
Medicine
Perfume/Cologne
3.4oz each
1qt total per pax
Yes
Yes
No
Small Arms Ammunition
Personal use and securely packaged
11lbs/5kg
No
Yes
No
Alcoholic Beverages
Must not be opened
Cannot exceed 70% alcohol by volume
5 litres/1.3 gallons per Passenger
Yes
Yes
No
Lighter or Safety Matches
Carried by Crew Member or Passenger
1 box or lighter for personal use only
No
Yes
Yes
Dry Ice or Carbon Dioxide Solid
Used to Pack Perishable Items
2.2kg/5.5lbs
Yes
Yes
No
Dry Ice
Dry ice is often used in the packaging of perishable items (i.e. fish, seafood) to keep them cool and prevent spoilage.
Dry ice must not exceed 2.5 kg (5 lbs) in weight for carry-on or checked baggage.
Items packaged in dry ice are accepted in carry-on or checked baggage provided they are properly wrapped and packaged* to protect against leakage, then placed in a box, carton, or container that:
Is properly vented to allow for the release of carbon dioxide gas
Is in good condition and free of any damage
*Brine spillage from fish and seafood is corrosive. Lobsters, seafood, meat products etc. must be packaged in leak proof containers and then be packed in plastic bags inside wax coated cartons.
Checked Baggage Restrictions
Passengers traveling with a dry ice container as checked baggage be advised:

You should arrive at the airport at least two hours prior to departure to allow for proper handling of dry ice.
You must sign a declaration form that certifies that the package is in good condition and provides a description of contents.
Styrofoam coolers containing dry ice are not acceptable for carriage as checked baggage.
Lithium Batteries
Spare lithium batteries may not be carried in checked baggage. Passengers wishing to carry spare lithium batteries for electronic devices such as laptops, cell phones or cameras must pack these in their carry-on baggage. Electronic devices containing lithium batteries may be carried in checked baggage provided the batteries are installed in the device.
Hoverboards
To ensure the safety of our customers and employees, National does not accept hoverboards or any lithium battery powered self-balancing personal transportation devices on board its aircraft. These items are prohibited as both carry-on and checked baggage.
Gel/Ice Packs
Gel and ice packs are subject to all liquid and gel restrictions.
If you must keep an item cool you may want to use frozen peas as an alternative to a gel/ice pack.
Exception: gel/ice packs that are used to refrigerate medication are exempt from these restrictions, provided the medication bears a label or is accompanied by a doctor's/pharmacist's note stating that refrigeration is required.
Musical Instruments
Carry On
Passengers may carry-on one (1) smaller-sized instrument case provided that the instrument case fits in an overhead bin or under the seat in front of the passenger. If instruments cannot be properly stowed, they must be checked as baggage.
For larger instruments (cellos, tubas, guitars, etc.) that cannot be stowed overhead or beneath a seat, passengers may choose to purchase a seat for the instrument:
The instrument must be in a case and/or adequately covered to prevent injury to passengers.
Must not exceed 85 pounds
Must be able to be secured properly in a window seat by an aircraft seat belt.
Checked As Luggage
Checked instruments are subject to National Airlines baggage rules and fees
Due to the fragile nature of musical instruments, instruments are checked as limited liability items
Notice of Limited Liability
Unless a higher value has been declared and additional charges paid, National Airline's liability for any form of damages as a result of the disappearance of, damage to, or delay in delivery of a passenger's personal property, including luggage, properly checked to its custody, shall be limited to the fair market value of the personal property involved at the time of the loss or delay, but in no case involving wholly domestic travel shall such liability exceed $3,500 per passenger, except for mobility devices. For international travels, including the domestic portions, subject to the Warsaw Convention, the liability limit for delay, damage or loss is approximately $9.07 per pound ($20.00 per kg) for checked baggage and approximately $400 per passenger for unchecked baggage. Where the Montreal Convention applies, the liability of National Airlines for the delay, damage or loss to checked and unchecked baggage is limited to 1,000 Special Drawing Rights per passenger (approximately $1,750.00).
On domestic flights, National Airlines shall not be liable for loss of, damage to, or delay in delivery of high value, fragile, or perishable items, including but not limited to, the following: medication, money, jewelry, silverware, negotiable papers, securities, electronic/video/ photographic equipment, samples, heirlooms, antiques, artifacts, works of art, musical instruments, or other valuables included in the passenger's checked luggage, with or without the knowledge of National Airlines. National Airlines does not assume responsibility for loss or damage due to normal wear and tear; protruding parts, such as feet, handles, wheels, straps, hooks; oversized or overly packed luggage. National Airlines is not liable for any damage that occurs to infant/child car seats or strollers that are not properly packaged in a bag or box and carried in the cargo compartment of the aircraft.
Baggage Claims
Please see a National Airlines representative at the airport to report damage to your checked baggage immediately after arrival. Damaged baggage claims will be evaluated and reviewed.
Reports of damage to checked baggage must be made within 24 hours for domestic travel and seven days for international travel.
If you have already left the airport and need to report damage to your checked baggage, complete the Baggage Claim Form and submit with the necessary documentation.
National Airlines assumes no liability for carry-on baggage that traveled in the cabin or for pre-existing damage to any bag.
DOT Policy 14 CFR 254
National Airlines adheres to DOT Policy 14 CFR 254 and will investigate all customer reports of mishandled baggage whether the carrier's agent believes that the claim will result in reimbursement or not. National will then provide the results of its investigation and a final decision on reimbursement to the customer.
More stories from Media Room